Company Name:
G INTERNATIONAL TRADING JAPAN LTD.
Address:
20-16 Nishiiba-cho, Hamamatsu City,
Shizuoka 432-8038 JAPAN
President:
Minoru Kadota
Business Founded:
2001
Capital:
50,000,000 yen
Business Activities:
Wholesale export of used vehicles, engines,
parts & materials
Suppliers:
Network of domestic dismantlers
Clientele:
Vehicle & parts importers in all major overseas
automotive markets
Affiliated Companies:
G INTERNATIONAL TRADING JAPAN (S) PTE LTD
/Email gitjs@singnet.com.sg
FRONTIER MOTORS CO LTD (Dubai, UAE)
STAFF:
11
Representative Banks:
Shizuoka Bank, Mizuho Bank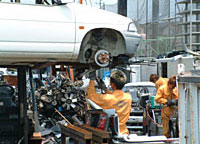 Our expert dismantlers at work.
No part gets overlooked!